OSCGR NEWS
June 2010

Meet Our New Coordinator (Dave Slaymaker):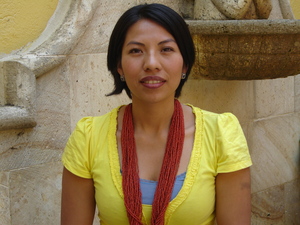 Our center in Oaxaca is excited to welcome our new Coordinator Gandhi Ramos Celaya. Gandhi is in her 3rd month with us and we are excited by the enthusiasm and leadership she is providing at the center. Below Gandhi explains how she came to work at the center and briefly describes her background.  "One day, I met Ms. Leonor, who works at the center (C.E.I.). She told me about the wonderful work done there. I had no idea C.E.I. existed and was surprised to learn that it was on my way home.  On seeing the building and meeting the children I signed up to volunteer. Three months later I was coordinator."

Gandhi comes well qualified for the position. In her words "I have a bachelor's degree in Public Administration and Political Science and studied the non-profit sector in the last year of study for my Master's degree in Social Sciences.  On completion of the Masters, I travelled to Austin, Texas  participating in a program called "Developing Civil Society Through Case Study."  My time in the United States gave me perspective on the non-profit sector there, as well as a chance to better my English."  The Mexican and United States Boards of Directors for  the center in Oaxaca are excited to have Gandhi as Coordinator. She has been doing a great job.  If you travel to Oaxaca please stop by and meet her.
Success! Claudia María Santiago Morales
(translation from Spanish by Gandhi Celaya Ramos and Alejandra Olguín)

"When I was a little girl I dreamt about doing something for my people who are Mixtecos, an indigenous group from

the Mixteca region in Oaxaca. We as indigenous people have always been surrounded by endless limitations; and one of those is having access to an education.  I was one of the privileged who had the opportunity to go to school with the help of C.E.I. Now, after 8 years of support I´m working as a teacher and I can help my people just as I had dreamt. Not everyone understands the importance of being educated, I had the chanc

e to understand it thanks to my sponsor who supported me with my studies."  



Claudia Maria Morales Santiago has finished her bachelor's degree in Indigenous Education. She is working in an indigenous community where her 24 students speak Mazateco. Her school is in Santa María Peñoles, a village two hours from the capital city.






Shrine Auction Results

This year's Shrine Auction was a a tremendous success! The auction, Sponsored and arranged by Rebecca Brooks in conjunction with Soroptimist International of Central Yavapai Sunrise in Arizona raised over $4,000 dollars for the children at the center of which 100% will go to their support.  Many, many thanks to all involved!

Our sincerest thanks to all of you for your support of Oaxaca's children in need. Please feel to forward this newsletter to all you believe will be interested. Because of you, lives are changing.
USA Address

Oaxaca Street Children Grassroots Inc.
6066 Shingle Creek Parkway #184
Brooklyn Center, MN 55430-2316

USA Toll Free: (866) 257-6121

Click here to follow us on:

 

Mexico Address

Centro de Esperanza Infantil A.C.
Crespo # 308 Colonia Centro
Oaxaca, Oax.
C.P. 68000 Mexico





E-mail: oaxacastreetchildren@prodigy.net.mx
Local phone: 50 1 10 69



   Visit our website at:    http://www.oaxacastreetchildrengrassroots.org/