Our Kid's Calendars

From our center in Oaxaca:  
We have a very special Holiday Gift idea for you and all your friends!  In partnership with the Muskoka Foundation, the children at the center have been taking a photography course and have become very good!  They are learning to express themselves through photography and to think about potential careers in photography.  During an online photo competition including youth from around the world, our children were the clear winners.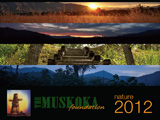 Some of their work has been chosen to appear in the Muskoga Foundation's beautiful 2012 Nature Calendar!   Calendars are $12 each and will be shipped to your home. A portion of the proceeds will support Oaxaca Streetchildren Grassroots!  Please consider recognizing our youth for all their hard work and creativity.  You can view and purchase calendars at:
 
Please sends this link to your friends. Not only can they purchase a beautiful calendar that will last the whole year through, but they can help support the center as well.
The Muskoga foundations "vision is to transform the adventure travel sector by including volunteering as a standard part of every traveler's plans. Through their efforts/experiences these travelers will contribute substantial and sustainable 'Net Positive Impacts' in the more than 40 Muskoka Communities around the world."

I have been talking to Katie Clancy who is Muskoga's Coordinator for Latin American Programs about how Oaxaca Streetchildren Grassroots might partner with Muskoga.  I am excited by the possibilities of our working with Muskoga to do even more for the children we serve.  (Dave Slaymaker)